Im Sommer war mein Herz fröhlich. Es hat sich weit geöffnet und ist aufgeblüht.
Im Herbst ist etwas in ihm zerbrochen und die Blüten sind verwelkt. Es wurde traurig und schwer. Das Glück ist verschwunden und es schmerzt.
Jetzt ist es Winter. Lange dunkle Tage kommen.
In summer my heart was joyful. It opened wide and blossomed.
In autumn, something inside is broken and the blossoms withered. It became sad and heavy. The happiness has disappeared and it hurts.
Now it is winter. Long dark days are coming.
Mit gelben Birnen hänget
und voll mit wilden Rosen
das Land in den See,
ihr holden Schwäne,
und trunken von Küssen
tunkt ihr das Haupt
ins heilignüchterne Wasser.
Weh mir, wo nehm´ ich, wenn
es Winter ist, die Blumen, und wo
den Sonnenschein,
und den Schatten der Erde?
Die Mauern stehn
sprachlos und kalt, im Winde
klirren die Fahnen.
Friedrich Hölderlin (Hälfte des Lebens)
With yellow pears hanging
and full of wild roses
the land in the lake,
ye fair swans,
and drunk with kisses
you dip your heads
into the holy sober water.

Woe is me, where will I take the flowers
when it is winter, and where
the sunshine,
and the shadow of the earth?
The walls stand
speechless and cold, in the wind
the flags clatter.

Friedrich Hölderlin (Half of Life)
Das Herz aus Glas
Ich habe ein Herz aus Glas gefunden. Oder hat es mich gefunden? Ich nehme es mit nachhause, halte es gegen den grauen Winterhimmel. Es ist schön und es glänzt.
Es wird eine Zeit bei mir bleiben.
The heart of glass
I have found a heart of glass. Or has it found me? I take it home, hold it against the grey winter sky. It is beautiful and it shines.
It will stay with me for a while.
Das Glasherz scheint zerbrechlich, ich gehe vorsichtig damit um. Aber es hat ein Gerüst aus Stahl, das hält es zusammen und macht es stabil. Ich lege es auf meinen Arbeitstisch. Die tiefstehende Wintersonne strahlt hindurch und das Gerüst wirft einen großen Schatten, der aussieht wie ein unzerstörbares Geflecht.
The glass heart seems fragile, I am careful with it. But it has a framework of steel that holds it together and makes it stable. I place it on my work table. The low winter sun shines through and the framework casts a large shadow that looks like an indestructible mesh.
Ich lege das Herz zwischen die letzten Rosen in meinen Garten. Es ist Dezember.
Seltsam fremd sieht das Herz hier aus. Irgendwie außerirdisch.
I place the heart between the last roses in my garden. It is December.
The heart looks strange here. Somehow alien.
Zeichnen
Mit Tusche und Pinsel folge ich den Linien des Gerüsts. Es verwirrt mich. Seltsame Formen entstehen auf dem Papier. Verzerrt, verschoben, nichts scheint zu stimmen. Wieder und wieder fange ich an. Versuche zu ordnen.
Und dann fügen sich die schwarzen Linien doch noch zu einem Ganzen zusammen. Sie kommen aus meinem eigenen Herzen und zeigen, wie ich es sehe. Sie behaupten sich. Sie sind stark.
Drawing
With ink and brush I follow the lines of the scaffolding. It confuses me. Strange shapes emerge on the paper. Distorted, shifted, nothing seems to be right. Again and again I start. I try to put things in order.
And then the black lines finally come together to form a whole. They come from my own heart and show how I see it. They assert themselves. They are strong.
Scherben
Lange Zeit haben sie in meinem Garten in der Erde gelegen. Nach und nach kommen sie wieder zum Vorschein. Es sind meine Scherben-Fundstücke: schillerndes Grün, warmes Gelb, Ocker, Brauntöne, Schwarz. Bruchstücke von alten Tongefäßen. Die Kanten haben sich abgeschliffen. Aber ihre schönen Farben sind geblieben.
Shards
For a long time they have lain in the ground in my garden. Little by little they come to light again. They are my shard finds: iridescent green, warm yellow, ochre, brown tones, black.
Fragments of old clay pots. The edges have worn away. But their beautiful colours have remained.
Die Scherben in meinem Herzen scheuern es wund. Wieder und wieder. Hört das irgendwann auf? Vielleicht sollte ich damit aufhören, mich für meinen Schmerz zu schämen.
The shards in my heart chafe it. Again and again. Will it ever stop? Maybe I should stop being ashamed of my pain.
Wut
Das Herz aus Glas ist kalt und hart.
Unbeweglich und starr.
Es hat scharfe Kanten.
Es ist leer.
Sein Glanz blendet.
Sein Schatten ist zu groß und trügerisch.
Es macht mich wütend.
Ich möchte es an die Wand werfen.
Anger
The heart of glass is cold and hard.
Immobile and rigid.
It has sharp edges.
It is empty.
Its shine is blinding.
Its shadow is too big and deceptive.
It makes me angry.
I want to throw it against the wall.
Wasser
"Man sieht nur mit dem Herzen gut. Das Wesentliche ist für die Augen unsichtbar" sagt der Fuchs zum kleinen Prinzen und schenkt ihm damit ein Geheimnis, das die Menschen vergessen haben.
Stimmt das, dass man mit dem Herzen gut sieht? Das Glasherz scheint mir trüb und stumpf. Mein eigenes Herz erscheint mir blind. Vielleicht kann Wasser für Klarheit sorgen.
Water
"One sees well only with the heart. The essential is invisible to the eyes" says the fox to the little prince, thus giving him a secret that people have forgotten.
Is it true that one sees well with the heart? The glass heart seems cloudy and dull to me. My own heart seems blind to me. Perhaps water can bring clarity.
Das Trübe ist weg. Licht fällt durch das Glas und lässt es wieder strahlen. The dullness is gone. Light falls through the glass and makes it shine again.
In den Wassertropfen spiegeln sich die Linien des Gerüsts, wie kleine Zeichen. Ist das Wesentliche im Kleinen?
The lines of the scaffolding are reflected in the drops of water, like small signs. Is the essential in the small?
Ich hülle es in ein Tuch und es gibt ein schönes Bild von Ruhe, Geborgenheit und Schutz. I wrap it in a cloth and there is a beautiful image of peace, security and protection.
Mein Herz
dieses kleine Wunderwerk aus Kammern und Klappen.
Schon vor meiner Geburt hat es angefangen zu schlagen.
60 bis 80 mal in der Minute, mehr als 100 000 mal am Tag
und 42 Millionen mal im Jahr.
bubumm bubumm bubumm bubumm
Ununterbrochen. Zuverlässig. Immer. So viele Jahre.
Es kann flattern und hüpfen vor Freude,
es kann sich zusammenziehen,
bluten und Schmerzen ertragen.
Schon vieles hat es mit mir ausgestanden
und einige Narben sind zurückgeblieben.
Ich wende mich ihm liebevoll zu.
Es soll heilen. Es hält mich am Leben.
Und es schlägt weiter
für mich.
My heart
this little marvel of chambers and valves.
It started beating even before I was born.
60 to 80 times a minute, more than 100,000 times a day
and 42 million times a year.
bub-boom bub-boom bub-boom
Uninterrupted. Reliably. Always. For so many years.

It can flutter and jump for joy,
it can contract,
bleed and endure pain.
It has already endured many things with me
and some scars are left behind.

I turn to it lovingly.
It is supposed to heal. It keeps me alive.
And it beats on
for me.
Das Herz aus Glas soll noch eine Weile bei mir bleiben. Es hat mein Herz in Bewegung gebracht, mit seinem Glanz und auch mit seiner Starrheit. Es inspiriert mich.
Es ist Ende Januar. Die Tage werden heller.

The heart of glass shall stay with me a while longer. It has set my heart in motion, with its brilliance and also with its rigidity. It inspires me.
It is the end of January. The days are getting brighter.
Schneeherz
Der Winter hat sich zurückgezogen und hat das Schneeherz mitgenommen. Das Glasherz ist noch da und wartet, dass ich aktiv werde.
Es ist Februar.
Snow Heart
Winter has retreated and taken the snow heart with it. The glass heart is still there, waiting for me to become active.
It is February.
März. Ich beginne das Glasherz mit Ton zu füllen.
March. I begin to fill the glass heart with clay.
Platzhalter für Video
Video placeholder
Es ist eng. Ich reiße mir an den Glaskanten die Finger auf. It is tight. I tear my fingers open on the edges of the glass.
Ein Herz im Herz. Sieht aus wie Nougat.
A heart in the heart. It looks like nougat.
Der Ton trocknet, zieht sich dadurch zusammen und bekommt Risse. Es sieht nicht so aus, wie ich es mir vorgestellt habe. Es passt nicht und ist nicht schön.
Nur das kleine Herzchen, das sich innen am Glas gebildet hat, gefällt mir.

The clay dries, thus contracting and cracking. It doesn't look the way I imagined. It doesn't fit and it's not beautiful.
Only the little heart that has formed on the inside of the glass pleases me.


Ich lege es in eine Wanne mit Wasser, damit sich der Ton wieder löst. I put it in a tub of water so that the clay dissolves again.
Das Tonherz saugt sich mit Wasser voll. Es brodelt und blubbert, als ob es gärt.
The clay heart sucks itself full of water. It fizzes and bubbles as if it is fermenting.
Platzhalter für Video
Video placeholder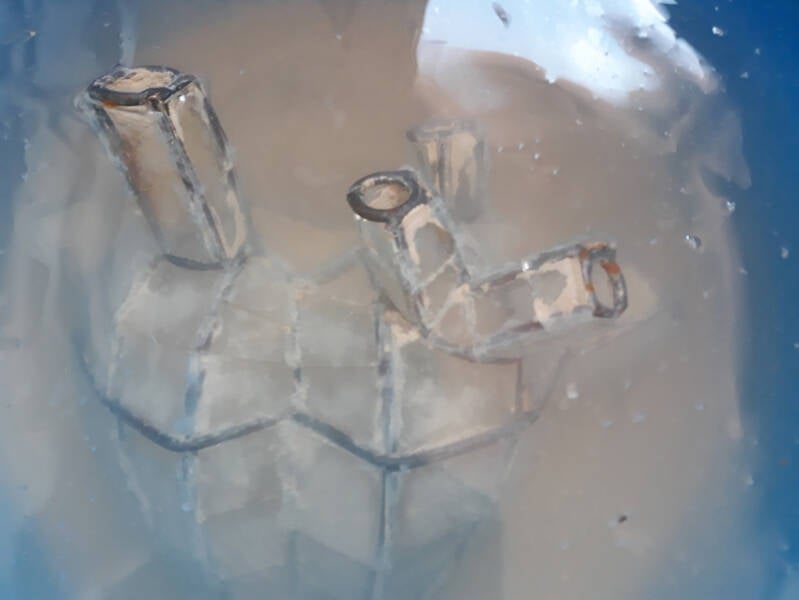 Das Herz liegt im trüben Wasser wie ein Schiffswrack auf dem Meeresgrund. Es brodelt nicht mehr.
Es ist ganz still und strahlt eine große Ruhe aus. Es ist ein schönes Bild und ich lasse es noch eine Weile so liegen.
The heart lies in the murky water like a shipwreck at the bottom of the sea. It no longer bubbles.
It is completely still and radiates a great calm. It is a beautiful image and I leave it like that for a while.